Tomorrow Manuoku — the Wharram Hitia 17′ that Thomas and I built for the 2015 Race to Alaska — will compete in the Sound Rower's "Sausage Pull".  I'll be pedaling with Kevin Flick, trying to take 10-20 minute turns at keeping the Hitia going 7 kph or faster.  This will be a unique opportunity to see what sorts of speeds we can get over a multi-hour course when the boat is lightly loaded and free of the drag from its mast, sail, and rigging.  If we can maintain a 7-8 kph average, we should finish the 23 km course in 3-3.5 hours.
For comparison, here are some full- and half-race mean speeds from previous Sausage Pulls attained by local Michael Lampi in various pedal boats over the years.  The range is 7.7-11.1 kph and the mean is 9.8 kph.
I'm hoping Kevin and I can get close to the 7.7 kph and that Matt is able to top the 11.1 kph!  Either way, I expect we'll learn a lot about our boats and set a personal best in these boats to try in future years.
For further comparison, here are the mean speeds for 24-hour world record distances set in human-powered boats.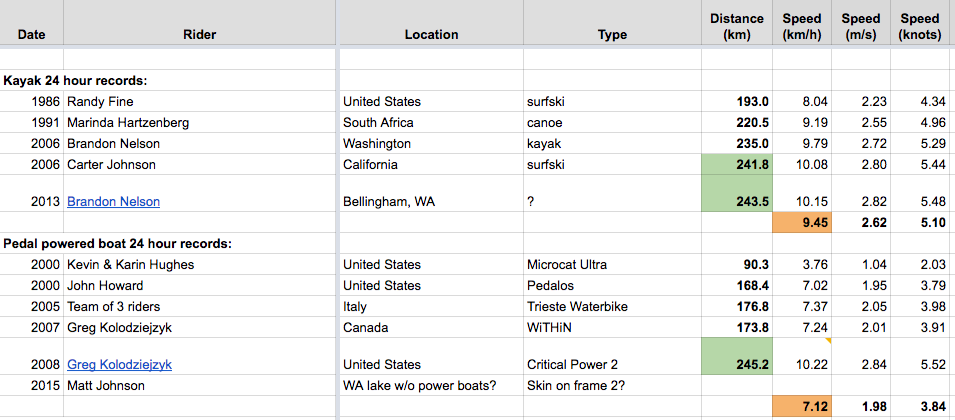 It's noteworthy that Michael's full-race (~2 hour) speeds are right up there with Greg's 24-hour world record speed.  All these numbers can be further examined in this Google spreadsheet of human-powered boat performance data.
When Thomas and I circumnavigated Mercer Island as part of our 2015 R2AK training, our boat Manuoku was fully loaded and had a sailing rig.  As I recall it was pretty calm that night.  The iSailGPS screengrabs show that our speed was 4-6 kph for much of the time.
In contrast, I attained speeds of 6-8 kph during speed tests earlier this week, comparing performance of the Rick Willoughby custom propeller and an APC propeller of comparable diameter.  The rig was still up (I'm going to pedal/sail to the start of the race tonight), but with the boat was much more lightly loaded than in 2015 (much less gear/water, and only 1 person aboard).   Overall, the speed results were surprisingly pretty similar between the two props, despite the fact that the APC was not snugly fit to the shaft at all (need a bushing and a locking nut as the non-locking one I used fell off sometime during the tests!).
The start and finish line is Mt. Baker Park beach!